Small Moments That Turn into Something BIG!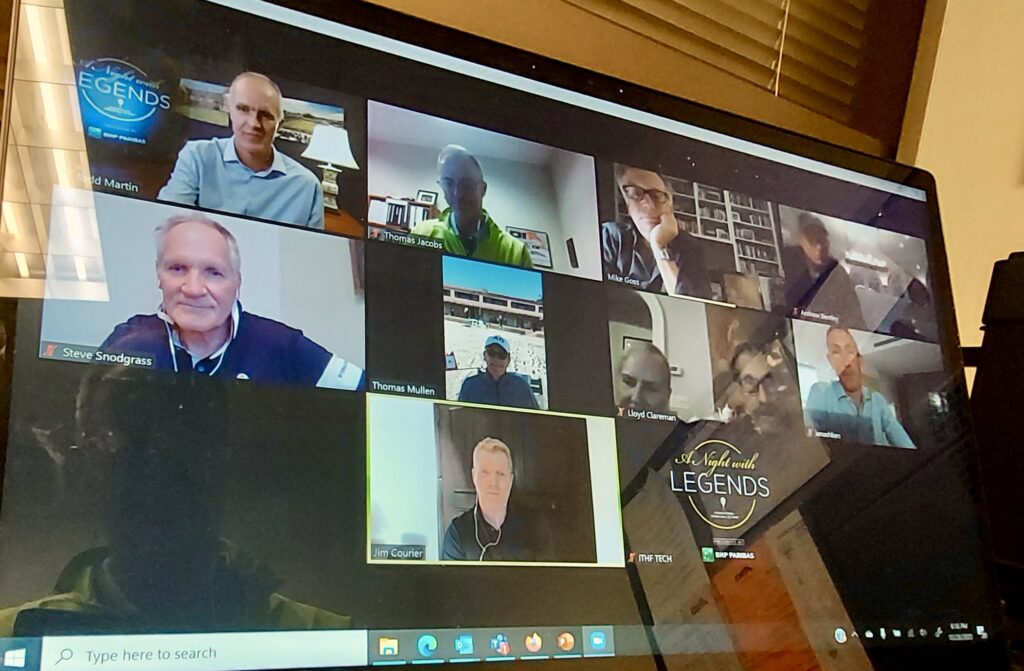 They say, "a picture is worth a thousand words." This is a photo from a video conference session that took place recently. It was not your typical webinar that I know many of us have been involved with over the last several months. It was sponsored by the International Tennis Hall of Fame (and its CEO, Todd Martin — two-time Grand Slam finalist and former world #4). "A Night with Legends" (in this case, four-time Grand Slam champion Jim Courier and former world #1) was hosted by ITHOF Board Chair Mike Goss.
First, let's start with Steve Snodgrass, former tennis student-athlete at Kansas State University and the men's and women's coach there for a number of years. One of those student-athletes on one of his teams was a young man by the name of Mike Goss.
Flash-forward a few years later (OK, quite a few years later!) – Todd Martin, is hired to be the CEO of the ITHOF. My connection with Todd comes from my time working for the United States Tennis Association (USTA) as the Managing Director of Player Development. Todd was on the USTA Board of Directors and that's how we become acquainted. Todd was looking to hire a person with experience running the business side of a Hall of Fame.
That's where Mike Goss comes back into the picture and recommended that Todd speak to his "old coach" from K-State, who had since developed a successful consulting and executive search business. Todd hires Steve to assist the ITHOF with the search.
Based on the assignment, Steve decided to open a Sports Division of his firm and there happens to be an article in the business section of the Kansas City Star about Steve, the search he did for the ITHOF and how he is opening a Sports Division. I just happen to be in Kansas City when the article came out (visiting my daughter, Emma, who was a freshman at K-State at the time… more dots being connected!).
That same day, I pick up the phone, calling Todd and asking if he would be nice enough to make an introduction between myself and Steve. What Steve was doing sounded interesting and I figured with both of us being from Kansas, we were sure to have a few things in common.
Was that an understatement! We proceeded to have numerous conversations over the course of the next month (and, of course, sharing the people we had in common with each other). A return trip to KC to visit Emma and be able to meet with Steve in person sealed the deal and the Sport Division of Snodgrass Partners was launched in September 2016.
Mike comes back into the picture again when he agrees to serve as an advisor to our firm. This was a great move, as a couple of years later when business was not going quite as Steve and I had hoped, Mike was the one who really encouraged us to stick with it — that "good things" were just around the corner. He was right and really gave us the encouragement that was needed.
To fully connect the dots, Todd and Jim were exceptional, world-class tennis players (as previously referenced), who also delivered a Davis Cup Championship on the same team together for the United States (in Moscow, no less, indoor on red clay – 1995). One of the things they had in common at one point in their career? They were both coached (at the same time) by former world-class player, current coach (and all-around great person!), Jose Higueras. My connection with Jose? Shortly after I was hired by Patrick McEnroe (former General Manager of USTA Player Development), Patrick hired Jose to be Director of Coaching for Player Development.
My point in all of this? Do not underestimate things that may seem insignificant at the time. Keeping an open mind, an open heart and "being present in the moment" can lead to bigger and better things that you never could have imagined.
It's kind of mind-boggling to think that had any number of events NOT occurred over a period of time, Steve and I probably would not have made the connection we made (IF Mike had not played for Steve at K-State, IF I had not met Todd, etc.) And on the other end, when someone reaches out to you, give them your full attention and be open to helping them in any way you can — "big or small", because, again it's often these "small" things that may lead to something even "bigger and better" for them (as it did for us!).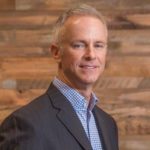 Tom Jacobs is a 30-year veteran in the field of athletics administration who sees the need to fill sports jobs through the lens of the client. Tom is the Senior Associate Commissioner/Chief Operating Officer for the Atlantic 10 Conference. He co-founded Snodgrass Partners' Sports Recruiting practice and serves as a key advisor to our sports recruiting team.