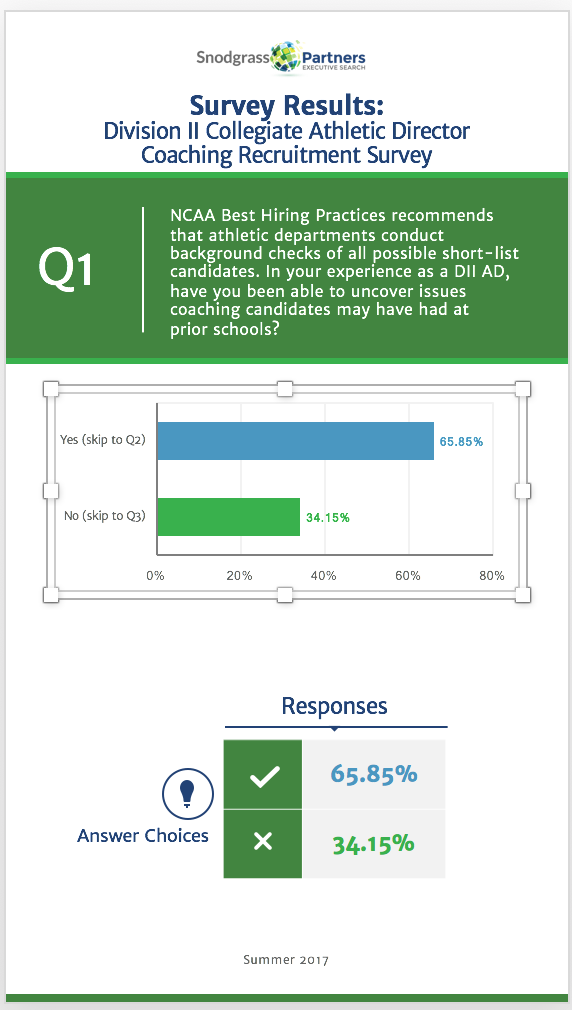 View the DII College Athletic Director Survey Results
Snodgrass Partners conducted a DII College Athletic Director Survey this summer to examine the trends that impact the hiring of coaches.
Our objective for the survey was to determine how Division II athletic departments go about hiring candidates for their sports programs.
We used SurveyMonkey as our data collection platform for the DII College Athletic Director Survey. We sent the survey to all Division II Athletic Directors in the NACDA database. The response rate was 26 percent rate. A few items of note: 
More than 65% indicated that they have been able to uncover issues coaching candidates may have had at prior schools.

Of that 65%, almost 73% indicated that they obtained this information through personal, knowledgeable and trusted connections.

For those who indicated they were not able to uncover issues coaching candidates may have had at prior schools, 45% cited the cost or assumed cost of third-party background check(s) as barriers.

Almost 36% agreed that Olympic sport coaches do not get as closely examined as coaches for other sports programs like football and basketball.

Nearly 90% agreed there is a need to find more females to lead women's sports programs and a need, overall, to find more qualified minority coaches; yet almost 30% have not signed or were unsure if their school had signed the NCAA Presidential Pledge.

Over 46% were likely, somewhat likely or unsure regarding how likely they would be to hire an outside firm if they were able to deliver a pool of diverse, qualified candidates.
Athletics administration veteran Tom Jacobs, who is the co-founder of Snodgrass Partners' Sports Recruiting practice, authored the survey. Snodgrass Partners is a full-service Executive Search, Leadership Consulting and Sports Recruiting firm. Our Partners and Allied Partners include current and former athletic administrators, coaches and thought leaders in the business of sports.