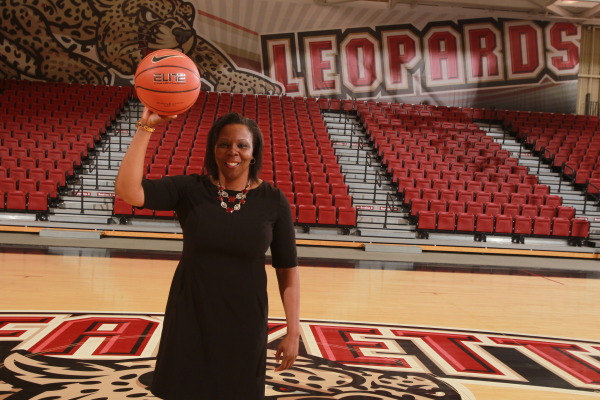 Fast-paced search. Even faster-paced offense.
Kia Damon was officially introduced as the new Head Coach for the Lafayette women's basketball program on May 31.
She is a proven leader and a high-character person who brings a wealth of coaching experience with her to College Hill. She has spent the past 19 years as an assistant coach at Cincinnati, Penn State, UMass, Fairleigh Dickinson and Green Bay.
Kia has great success at institutions that demand excellence in the classroom and also expect it on the basketball court. Her promise is to require that same level of excellence at Lafayette.
RELATED: Kia Damon wants to bring a Penn State-style turnaround to Lafayette women's basketball
When we first met with Lafayette's Director of Athletics Bruce McCutcheon and Deputy Director of Athletics Kaity McKittrick, the first question we asked was about timing. "When do you want to be in front of the cameras introducing your coach?" The answer was June 1 in order to get the new coach on the recruiting trail ASAP and new coaching staff on-boarded.
From start to finish, the search for Kia was conducted in five weeks. She was announced as head coach yesterday – a day ahead of schedule.
The Snodgrass Partners' team included Tom Jacobs, Lee Dicklitch and me. The three of us worked together to review and vet more than 120 applicants. This process allowed us to narrow the field to 25 highly qualified individuals.
Tom, Lee and I had in-depth, one-on-one conversations with each applicant thereby narrowing the pool to seven dynamic individuals who were personally interviewed off-campus. At that point, three exceptional finalists surfaced and they were invited to Lafayette to see the campus, meet with key members of the leadership team, and participate in very in-depth conversations with the search committee and me. In the end, Kia was the ideal choice.
Searches can only be successful when all parties are engaged and on the same trajectory. That was definitely the case in the Lafayette search and it's the reason "Partners" is in our name. I want to thank Lafayette President Alison Byerly, Bruce McCutcheon, Kaity McKittrick, Vice President for Campus Life Annette Diorio, and the entire search committee for partnering with us.
Congrats, Kia — We'll be cheering for you, your team and your "fast-paced" offense! GO LEOPARDS!