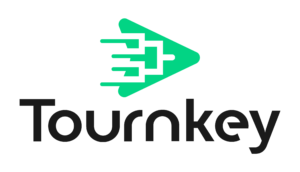 Tyler Childs is the CEO of Tournkey, an industry leader in tournament management and event accommodations. He grew up in hospitality in a small town in Canada about an hour from Detroit, Michigan. His family is made up of self- made entrepreneurs and Tyler is no different. His journey started with youthful inexperience in the family hotel and conference center, where he worked every role imaginable.
Tyler moved to London, Ontario in 2006 to attend Western University. During his time there he reinforced his passion for sports, leadership, and coaching. After completing a Master's Degree in 2011, Tyler joined Sport-Travel and began to rethink the way they approached the business. His passion helped the business scale through creative partnerships and innovative technologies. As time passed, Tyler continued to grow and become a leader within the company.

In 2016, Tyler started his first company, Tournkey, while simultaneously purchasing Sport-Travel which, as of March 2022, has become Tournkey. From there he has been able to build a team of experts across a wide range of services as part of an ever-evolving partner organization. 
Tyler and his team are now taking their new product offerings to support and evolve the event industry from the inside out.