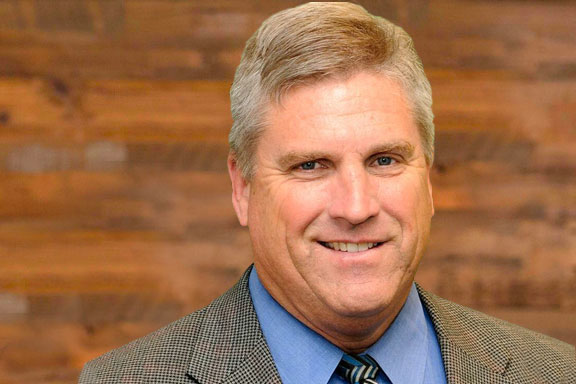 Ron Prettyman brings a wealth of experience to the
Sports Consulting and Recruiting
team. Ron current serves as the Interim Athletic Director at California Baptist University. During his distinguished career, he served as Managing Director of Championships at the
National Collegiate Athletic Association (NCAA)
from 2016-18.  He had global oversight of 17 NCAA National Championships including the College World Series, Division I Football, Women's Volleyball, Men's Ice Hockey and several others. Significant revenue, attendance and viewership growth was achieved under Ron's direction. He was the primary liaison to the Football Oversight Committee and worked with Rules and Officials functions for all sports at all levels.  Certification of all college football bowl games was also among the responsibilities.
Ron served as Athletics Director at Indiana State University for 11 years (2005-16) before going to the NCAA. During that span, Indiana State appeared in six NCAA championship events in five different sports. In 2014-15, a school record—placing second in the Missouri Valley Conference (MVC) All Sports Trophy was accomplished and Indiana State finished in the top five in the MVC in each of the last 5 years of his tenure. In 2014, the Indiana State football team advanced to the NCAA FCS playoffs for the first time in 30 years. The Indiana State men's basketball team reached post season competition for an unprecedented five consecutive years (2010-14).
The Indiana State Athletics Department hosted NCAA National Championship events seven times between 2007-2015.  They also hosted numerous MVC Championship events.
Ron was the longest tenured Athletics Director at Indiana State since John Longfellow (1948-65).  Facility improvements included remodels or new construction to Baseball, Football, Soccer, Volleyball, Basketball, Cross Country, Strength and Conditioning, Softball, Indoor Multi-Sport Practice Facility, Indoor Track and Field and Outdoor Track and Field.  He also brought Women's Swimming and Diving as well as Women's Golf to the Indiana State program.
Prettyman worked on several NCAA Championship and Governance Committees including Olympic Sports Liaison Committee, Nominating Committee, The Recruiting and Athletics Personnel Issues Committee, Baseball Championship Committee and several ad hoc committees.
Prior to his time at Indiana State, Prettyman served as Athletics Director at California State University Dominguez Hills for 10 years (1995-2005).  All athletics facilities on campus were upgraded or built including the Dignity Health Sports Park (formerly Home Depot Center) which was a $200 million project.  This facility serves as the current home for the NFL Los Angeles Chargers, Major League Soccer Los Angeles Galaxy, USA National Soccer Teams and other high-profile training programs such as USA Cycling and the USTA.  It is one of the only on campus Olympic Training sites in the United States.  The campus has hosted three NCAA Division II National Championships and one Division I National Championship.
Prior to his time at Cal State Dominguez Hills, Prettyman served as Athletics Director at his Alma Mater, Southern California College (now called Vanguard University).  Upgrades and new construction occurred on all athletics facilities during his tenure.
Prettyman served as an Athletics Director for 34 years prior to moving to the NCAA capping a current 37 years in intercollegiate athletics administration. Prettyman received the National Association of Collegiate Director of Athletics (NACDA) Athletics Director of the Year Award in 2004 and 2011.
Prettyman, a native of Southern California holds a bachelor's degree in Health, Physical Education and Recreation from Vanguard University and a master's in Education with an emphasis in Curriculum and Instruction from California State University at Stanislaus.  He played three sports in high school, two sports in college and has coached four sports at the college level.
Ron and Carol, his wife of 43 years, have two grown children, Shara Enyeart (a teacher in Indiana) and husband Craig, and Ronnie Prettyman (Assistant Baseball Coach at University of Washington) and wife Tiffini.  They have five grandchildren.