Competition, Refreshed ‒ Bring Back Your Edge!
As head tennis coach at the University of Texas I knew that to contend for national championships our athletes would have to exceed expectations. My role was to create an environment that challenged them to stretch beyond what they perceived to be their limitations. But the decision to accept this challenge had to be theirs, not mine. Each athlete had to ask: "Do I really want to accept reality and confront my limitations? It's going to make me vulnerable. How badly do I want this?" The motivation had to come from within. They had to lead themselves and, in the process, lead me!
Watching these athletes move out of their comfort zones to stretch themselves was awe-inspiring. They exceeded expectations to advance to Final Fours and win national titles, often against the odds. Many of them were not projected to be top performers during the recruiting process. But they became top performers by continually reaching beyond their grasp to raise their level beyond what most people thought possible.
Overachieving teams bring an edge to work every day. I remember one season when the team's 2 seniors challenged each other to mini-tennis before practices to set the tone. Mini-tennis is played close to the net. The boundaries are the 2 sidelines and the service line. Our mini-tennis rules stipulated that you could not volley and you couldn't hit the ball hard, making it a true test of guile and grit. Most players cannot resist the powerful urge to give in, but these two were relentless. They were stubbornly persistent while seeking to inflict suffering by forcing each other out of position with deftly placed shots. Soaring Texas temps did not deter them. Often the point appeared to be over, but somehow the ball would come back. Practice had not even started and yet these seniors decided to demonstrate for their much younger teammates what it really means to reach beyond your grasp. That team got better every week and staged a miraculous comeback to win a national title.
The experience with that team and others that I had the opportunity to coach was exhilarating. They had a palpable edge, the sense that everyone involved was excited about getting better every day. There was no need to contrive a set of core values. There was no talk about 'culture.' They exuded a spirit. It was authentic. It was real.
Unfortunately, in today's image-is-everything world, the value of 'real' has plummeted. People hesitate to reach beyond their grasp because success must always be within a clutching distance. Moving out of their comfort zones is a non-starter because it would make them vulnerable. Instead, they focus on creating a perception of success. The goal is to compare favorably with others by building their personal brand. "Can I challenge myself to stretch?" is replaced by "How do I project that I'm a winner?" Buying into this mindset forces you to relinquish a strong sense of self. In its place, you construct an authentic brand based on what you want others to think of you. The authentic self becomes an inauthentically authentic self. You become a commodity.
The timing of this infatuation with branding could not be worse. We no longer live in the Industrial Age, a time of incremental change and long product cycles. In that linear world, you could succeed by working within your limitations to complete assigned tasks. In today's rapid change economy workers must be willing to make themselves vulnerable by stretching beyond their perceived limitations. They must accept the challenge of constantly inventing, adapting, and reinventing their jobs.
Business leaders are in the thrall of the impression management industry. Championship companies are a dying breed, but (self-proclaimed) "winning companies" are everywhere. What's the difference? Winning companies are built from the outside-in. They are results-obsessed with a focus on creating a perception of success. Winning companies simply do whatever it takes to "get a win," regardless of how much they have to lower the bar. The overarching goal is to compare favorably with The Competition. It's all about the packaging ‒ P.T. Barnum with social media!
Championship companies are built from the inside out. They are fueled by a purpose that transcends winning. There's not a lot of talk about results because everyone's too immersed in the process of getting better. Championship companies exude a spirit. There is a palpable sense that everyone involved is excited about getting better every day. Their marketing is inside-out. What's presented to the outside world is fueled by the edge that's exuded on the inside.
People in championship companies don't compare. They compete. In today's corporate world, to even speak of "competing" can be controversial, even offensive to some. This is because the essence of what it means to compete has become extremely distorted. Competing is now viewed as a strictly zero-sum endeavor. The modern definition is "to outdo another." This describes 'cutthroat,' ‒ destroy or be destroyed ‒ not competing.
The origin of compete, "to strive together" is from Late Latin in the 1600s. Competitors want to overachieve. If there are results in the balance they want to win. But they are driven by a purpose that transcends winning. They understand that you cannot control results, but you can control what goes into achieving them, what Alabama football coach Nick Saban calls "The Process."
Competing does not always involve a result in the balance. Things like "Who can sell the most product this quarter" are narrowly conceived forms of competition. Competitors thrive whenever they are challenged to move out of their comfort zones to tackle difficult problems, whether there's a result in the balance or not. They use the momentum from achieving a goal as motivation to take on the next challenge. Competitors strive together. It is a shared purpose. In the end regardless of any outcome competitors always view the experience as having made them better. And in the 'process' they put themselves in the best possible position to 'win!'
Unfortunately, we now live in a world where people are hesitant to come out from behind their brand. Too many are afflicted with R.O.C.D: Results Obsessive-Compulsive Disorder. Any result will do. Whatever it takes to "get a win" that will embellish their personal brand. This is a purely transactional approach and a recipe for mediocrity.
Striving together used to be the key to staying ahead of the game. Now it is required to stay in the game! We're seeing rates of change that used to take decades to occur. The automobile was invented in 1886, but the interstate highway system wasn't built until the 1950s. 18 years ago Facebook did not exist. Now they have almost 3 billion users. We now live in a world of ambiguity. There is constant pressure to come up with something new.
In an age of innovation, companies must find competitors. But they don't know how to identify them. They don't know what they don't know. This is a major reason why hiring and retention success rates remain abysmal. Almost half of all new hires fail in the first 18 months. When companies build from the outside-in, creating the perception of themselves as winners, they are prone to recruiting "winners." They look for "A Players," shiny objects from their previous jobs. Players are viewed as the complete package. They possess excellent job skills, a strong work ethic, and appear to be a good 'culture fit,' criteria that sufficed in an era when success in previous jobs could predict future success. Today workers must seek to stand out, not "fit." And riding a wave of past success is a recipe for disaster.
Competitors thrive in an environment of perpetual iteration because they view themselves as incomplete. They embrace Strivership, an ethic of continuous improvement based on the origin of compete,'to strive together.
I learned all of this the hard way. At 29 I became the coach at the University of Texas. I had helped take the Colorado Buffs from unranked to top twenty despite serious budget and scholarship constraints, but there were no expectations at Colorado. At Texas, high expectations are broadcast daily and I got caught up in the hype. My recruiting pitch included things like "You deserve to be here. You're a great fit. And for God's sake, 'We're Texas!'"
The result: we underachieved massively. I was on the verge of a nervous breakdown until it hit me that I was building from the program from the outside-in. I was too focused on winning. Everyone wants to win, but you can't control results so why talk about them? My practices had featured mind-numbing repetitive drills which challenged the athletes physically, but not mentally. I began designing practices that forced our athletes to problem solve under pressure. I also started recruiting athletes with a burning desire to compete, athletes who would lead themselves and in the process lead me ‒ on championship runs!
Now I help business leaders build championship teams by developing an edge at a time when embracing Strivership is crucial to thriving in a rapid-change economy.
Until next time Strive On!
---
Featured in Brainz Magazine – Jeff Moore (Executive Contributor)
Executive Contributors at Brainz Magazine are handpicked and invited to contribute because of their knowledge and valuable insight within their area of expertise.
---
Allied Partner Jeff Moore is well-kn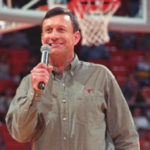 own and highly-respected throughout college athletics – not only for what he accomplished as a coach, but also for his prowess and the tangible results he has delivered while working with teams and athletic departments. As CEO of Moore Leadership, Jeff helps leaders in both college sports and the corporate world build championship teams.